Rock 'n' Roll & Seemannsgarn Geschichte
So ist das gekommen/ this is how it came to pass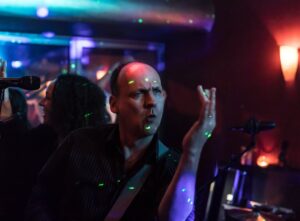 HANK BRO.S
Hank Bro.s ist aus Songideen entstanden, die ich mit Gitarre und Gesang eingespielt habe.
Auf diesem Grundgerüst wuchsen dann alle anderen Gesänge, Instrumente usw., bis zum vorliegenden Ergebnis.
Großen Anteil am Gelingen hatte Timo Mann bei der Aufnahme, dem Mix und dem Mastering.
Gemessen an all der Freude, die uns das alles bereitet hat, kann es gar nicht verkehrt sein!
Hank
HANK BRO.S
Hank Bro.s developed out of ideas for songs which I recorded singing and playing the guitar.
On this basis everything else grew into the result you can hear here.
Huge is the contribution of  Timo Mann with recording, mixing and mastering. 
Considering all the fun we had making this, it can't be wrong.
Hank
SNOIDS
Die Snoids waren die erste Band von Thilo, Jake, Chris und Gerd. Wir probten in einem schimmelüberzogenen Schuppen neben dem Waldheim Wangen, wo wir auch unser erstes Konzert gaben. Keiner weiß mehr, wann das war.
1999 taten wir uns kurzzeitig wieder zusammen, um die vorliegenden 6 Titel aufzunehmen.
Und 2016 (Foto-Datum) trafen wir noch einmal zusammen.
Chris und Thilo eilen schon seit einiger Zeit von einer Tanzparty mit SoulConnection zur nächsten.
2019 kam es zu einigen freudigen Begegnungen zwischen Hank (formerly known as Jake) und Soul Connection, bei denen ich die Bekanntschaft von Timo machte.
Alles weitere liegt hier vor.
SNOIDS
The Snoids were the first band of Thilo, Jake, Chris und Gerd. We rehearsed in a mildewy shed near the Waldheim  Wangen, where we played our first gig. Nobody can remember when that was. 
In 1999 we shortly got together again to record the 6 tracks featured here.
And in 2016 (date of the Photo) we met again.
Chris and Thilo have been hurrying with SoulConnection from one dancing-party to the next.
2019 witnessed some happy encounters between Hank (formerly known as Jake) and Soul Connection, and there Timo and I met.
Everything else is right here.